With its typical Mediterranean atmosphere, beautiful rugged coastline, and quaint and charming old town overlooking the sparkling Adriatic Sea, a day trip to Polignano a Mare is the one of the most authentic Italian experiences you could ever dream of.
On your private day tour of Polignano a Mare, you will be able to experience the Italian lifestyle of one of the most beautiful hidden gems of Southern Italy and definitely should not be missed when visiting Puglia. Once an ancient landing spot for merchants and fishermen, you will be amazed by the picturesque bays and caves, as well as the balconies and terraces which overlook the sea.
You will get to discover the small bay of the famous Lama Monachile, and the fascinating old town with its well-preserved Roman remains. The town also has superb seafood, chic design boutiques, stylish bars, and amazing gelato, making your visit to Polignano a Mare a perfect one.


VISIT POLIGNANO A MARE: WHAT TO SEE
Old town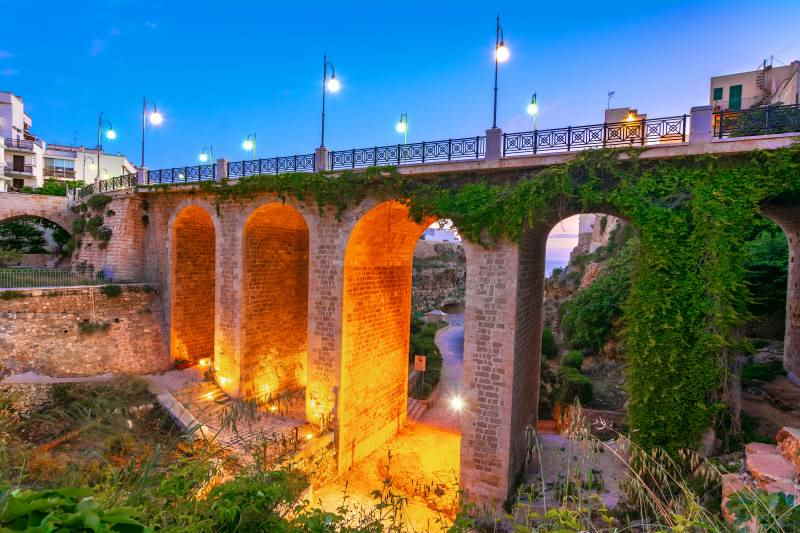 The charming old town of Polignano a Mare is a myriad of alleyways and whitewashed streets with several balconies and terraces looking out over the sea. On your tour of Polignano a Mare, we will spend some time strolling these streets and getting a feel of the town.
In the main piazza of Polignano a Mare, you will see the town's most important church, the Chiesa Matrice. Located on the site of an old Pagan temple, this church elegantly combines Gothic and Baroque features. Here we will explore this wonderful religious building, with its 23-metre bell tower, magnificent 18th century organ of the Neapolitan school, and its impressive high altar, choir, and chapel of St Vitus.
There are also a number of pieces of art, such as sculptures and paintings, of high artistic value here for you to enjoy. The church is surrounded by many historic palazzi with fantastic bars, cafes, and restaurants.
Lama Monachile and roman bridge
Polignano a Mare is famous for its stunning coastline, and there's no better place to experience its gloriousness than Lama Monachile, the town's most popular beach. Easily accessible from the city centre, here you will be able to enjoy the clear water of the Adriatic as well as see the ancient Roman Bridge.
Once part of the Via Traiana, an old Roman road constructed in 109 AD by Emperor Trajan, the bridge formed part of an extension of the route from Benevento to Brindisi and was named after a nearby monastery; the name of the bridge literally translates to 'monastic monk'. As well as the beach of Lama Monachile, there are plenty of other small bays and beaches to visit.
Caffé speciale and gelato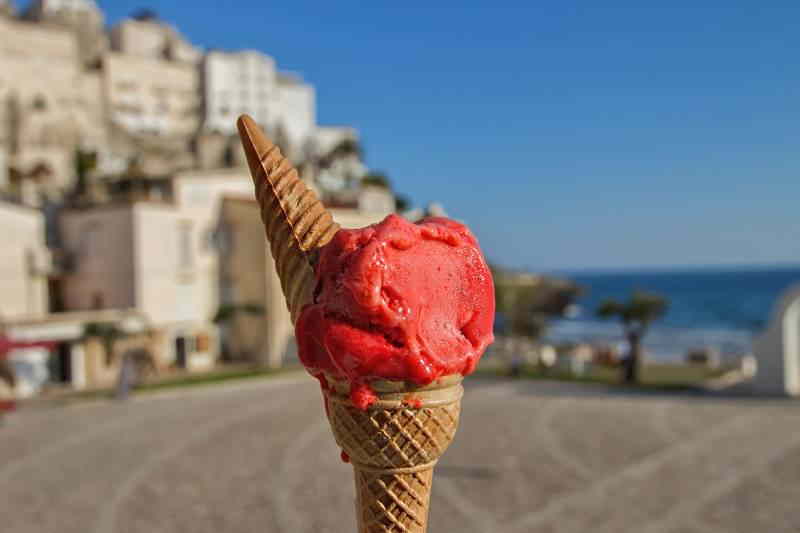 As well as being famous for its gorgeous coastline and wonderful old town, Polignano a Mare is also known as 'la città del gelato' - the town of ice cream. This is due to the fact that there are several gelaterie – ice cream parlours – in Polignano a Mare, some of which are considered to be the best in Puglia.
When on your private tour of the town, your tour guide can recommend the best gelaterie to you. When you visit the gelaterie, you will notice many locals doing the same thing; lots of the locals come to the gelaterie in the evening or at the weekend to take a walk by the sea and enjoy a delicious gelato. Another speciality you should try while here is the caffé speciale.
This is a special coffee invented by Mario Campanella, a local ice cream and coffee master. It's made from espresso coffee, sugar, cream, lemon zest, and Amaretto liqueur. The taste is simply delicious and a wonderful way to end your perfect day in Polignano a Mare.
Museum of Contemporary Art – Pino Pascali
If you enjoy contemporary art, you can pay a visit to the Museum of Contemporary Art – Pino Pascali while on your private day tour to Polignano a Mare. Pino Pascali was an Italian artist, sculptor, set designer, and performer who was born in Bari, close to Polignano a Mare, and was one of the most revered and celebrated Italian artists of the 1960s, and perhaps became even more so after his untimely death in 1968.
Known for his unique style, unlike a lot of his contemporaries, Pascali consciously made an effort to use completely different materials and themes for his work every time he had an exhibition. The museum here in Polignano a Mare dates back to 1998, when a retrospective of Pascali's work was held to honour the 30th anniversary of his death. The museum holds a variety of temporary exhibitions during the year alongside its permanent exhibition and the Pino Pascali Award, and is Puglia's only permanent contemporary art museum.
Sea promenade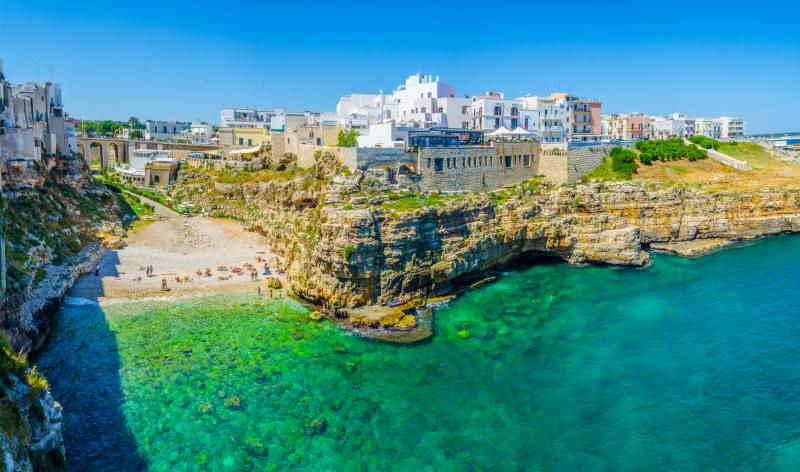 Taking a walk along the sea is an absolute must when on a visit to Polignano a Mare; there are many sea promenades both to the north and south of the historic centre. While walking towards the northern part, you will cross a bridge; from here, you will be able to take amazing pictures of the bay.
It's also during this part of your seaside stroll where you will find the statue of Domenico Modugno, an incredibly famous Italian singer who wrote the internationally popular song Volare; nowadays, this song is the most-played Italian song in the world. Modugno was born here in Polignano a Mare, and the locals are extremely proud of their famous citizen. The statue shows Modugno singing, a testament to his great talent.