One of the most iconic towns of Puglia, Alberobello is a UNESCO World Heritage Site famous for its trulli, traditional conical roofed houses distinctive to this area, and is an absolute must for anyone visiting Puglia.
Join one of our guided walking tours of Alberobello with one of our professional local guides and you will be transported into a fairytale. Your guide will take you around not only the small but extremely beautiful town but also the neighbouring area which is also dotted with trulli, and you'll get to learn about the history, architecture and cultural heritage of the town.
You can decide to take a day trip and visit Alberobello from Matera, Bari, Polignano a Mare or any other area of Puglia you are spending your holiday.


WHAT TO SEE IN ALBEROBELLO
Rione Aia Piccola
Rione Aia Piccola makes the perfect start to your tour of Alberobello. A small part of the town, it is no less picturesque for it; in fact, it could be argued that this is the most beautiful quarter. The name refers to a large open space that was once used for trashing grain, and is now full of winding streets, narrow alleyways and hidden corners as well as around 400 trulli, many of which are still used as family homes.
This area is the less touristy part of the town and as such you cannot look inside many of the trulli due to their domestic nature. However, it sometimes is possible to climb to the roofs of some of the shops here for a panoramic view of the town – just be sure to leave a small donation.
Trullo Sovrano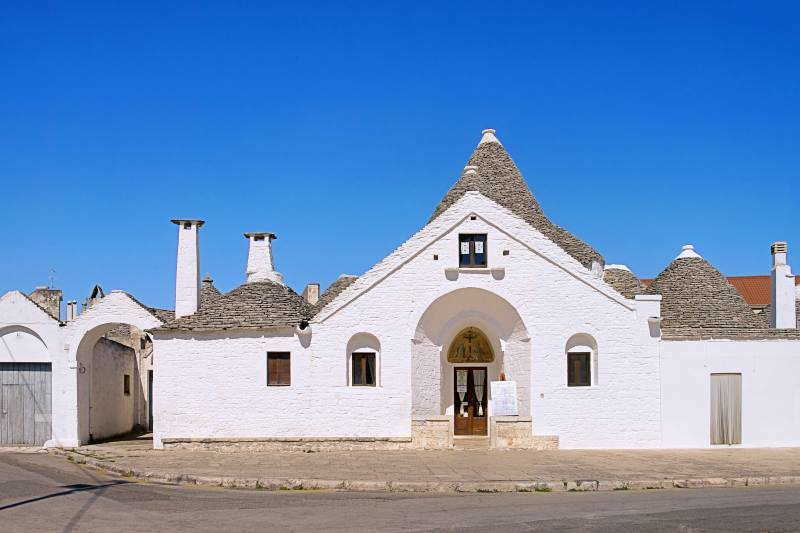 If you're interested in the local culture and learning more about the history of the area, a visit to the Trullo Sovrano is a must. Dating back to the 18th century, this particular trullo is so-called due to it being the only one in Alberobello with two floors. Originally built by a wealthy priest's family, the trullo now contains a small museum which recreates past life in the trulli.
Here you'll see reconstructions of a traditional kitchen, bakery and bedroom, and learn about how people used to live, what they used to eat and how they used to cook. There's even a souvenir shop where you can find books on the history of the town and the surrounding area, and Alberobello cookbooks.
Rione Monti: an Alberobello must-see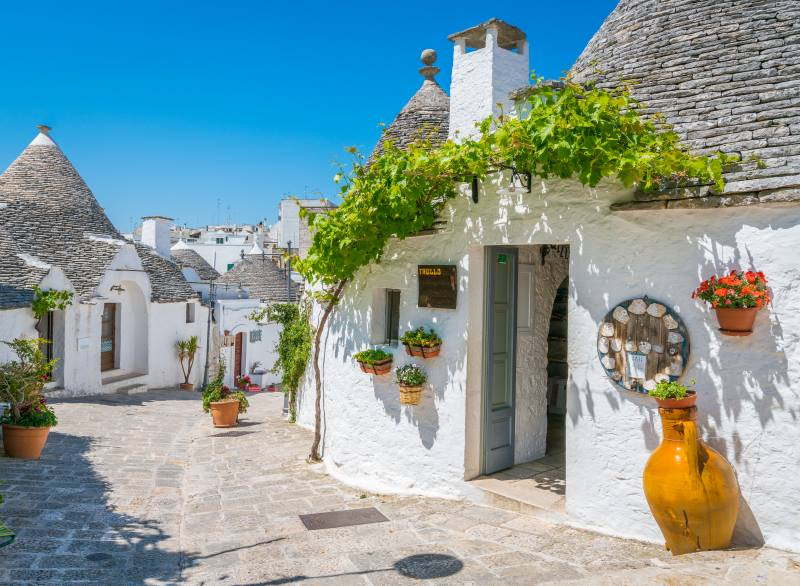 The oldest and best preserved area and an Alberobello must-see, Rione Monti has a huge concentration of trulli – over 1,000, to be exact – and although it has become quite a touristy area, it has still retained much of its original, traditional charm.
On your private day tour here you'll wander amongst the trulli-flanked streets, alleyways and squares which cling onto the hillside, and visit the many souvenir shops while soaking up the unique atmosphere of the area. Make sure to buy one of the miniature trullo mementos. They are supposed to bring you luck – but only if you gift it to someone else!
And it only works if the miniature is made of stone, not plastic, so be careful which one you pick! There are also may restaurants and bars housed in the trulli here, so it's a great opportunity to step inside one and try some of the local delicacies and exquisite wine.
St Antonio church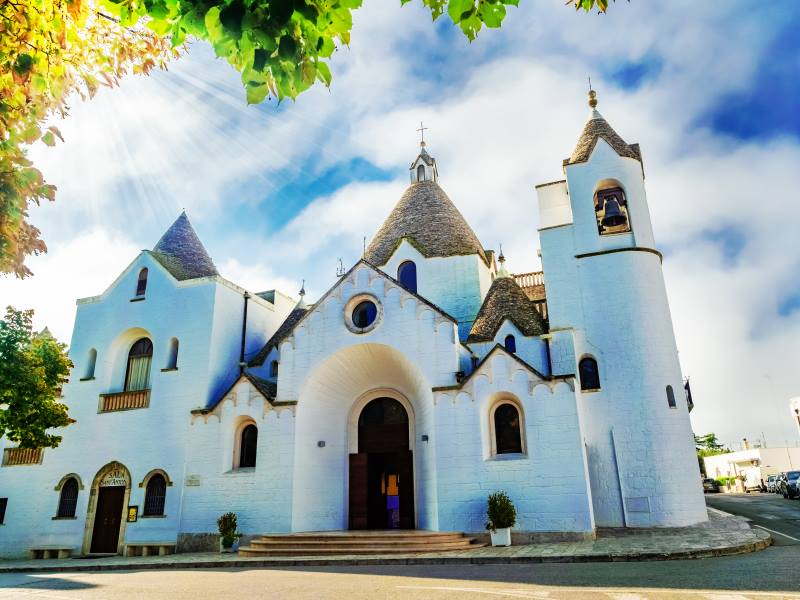 Located at the top of the hill in the Rione Monti, St Antonio Church was built at the beginning of the 20th century. Despite this, it still retains many of the traditional features of other trulli, built using the same techniques with a few Puglian Baroque and Romanesque features added in. Built in the shape of a Greek cross, the church features a bell tower, side chapels and an impressive dome inside.
Casa Pezzolla – Museo del Territorio
Comprising of a cluster of 15 trulli dating back to the 18th century, this museum displays a number of exhibits detailing the agricultural and building traditions of the town and the surrounding area. You can even see some spires from the tops of trulli as well as a couple of rooms which have been constructed to show how residents of the town used to live.
What to do in Alberobello
If you're lucky enough to visit Alberobello on a Thursday, you'll get the chance to visit the morning open-air market. Situated on Via Barsento, your senses will be consumed by the sights and smells of the wonderful produce on sale, from local seasonal fruit and vegetables to nuts and pickled olives. Once you've had a go at buying produce – when you'll discover that for each product on the market there is an Italian name and a name in the local dialect – you can head to the local Panificio, a fantastic bakery where you can sample a vast array of both savoury and sweet baked goods.
But it's not just the markets where you can find great produce to buy in Alberobello. Many of the shops in the town sell traditional Puglian products, from the quintessential 'green gold' - extra virgin olive oil – and Puglian wine to the local cheeses made in the region. If it's local handicrafts you're after, you certainly won't be disappointed in Alberobello.
You can find a number of gifts made from leather, wood or stone – you may even get to see the craftsmen at work – as well as jewellery, paintings and clothing. Getting out into the countryside surrounding Alberobello is definitely highly recommended and cycling is the perfect way to discover it. We can help you arrange a bike tour, where you'll pass the scenery iconic to this region – ancient olive groves, vineyards and farmers' fields.