The old roman town of "Brindisium" used to be one of the first and biggest roman strongholds in Puglia. For its geographic strategic position the city has always been playing a fundamental role in the Mediterranean. Here you will discover the roman and middle age heritage of what used to be the end of the famous roman way "via Appia".


VISIT BRINDISI: WHAT TO SEE
If you are spending your holiday in Brindisi or at one of the beach resorts near Brindisi, don't miss the chance to visit the city centre. On a guided tour you will discover the sea promenade, the roman columns of the via Appia and the medieval Cathedral of the city, but most of all you will get into the fascinating history of old Brindisium. Brindisi is also a cruise destination and there are also a lot of shore excursions you can do from Brindisi.
Colonne Romane: Brindisi must see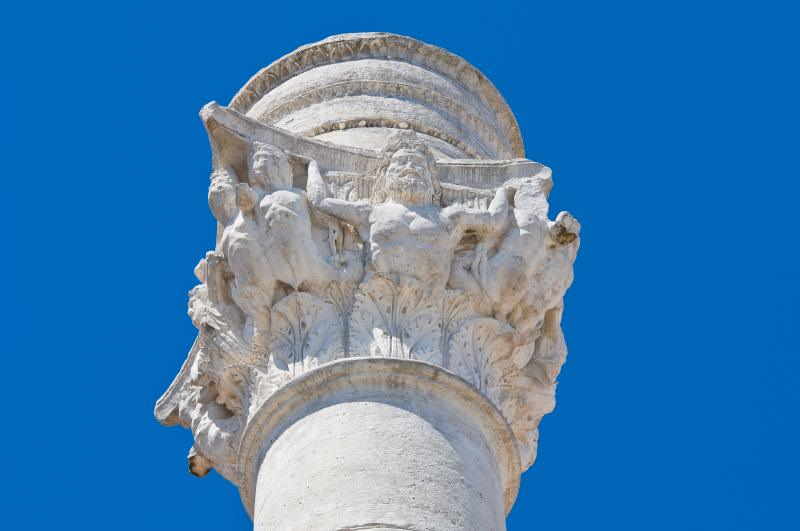 While walking along the harbour of Brindisi you will get to see the famous roman columns which used to be the very last part of the old roman way "via Appia" - a way that used to connect Rome to the city of Brindisi. This huge infrastructure was made by the Romans in order to control the commercial and trade routes in the eastern part of the Mediterranean. Furthermore, the harbour used to play a very important military role. From here you will see the unique shape of the natural port of Brindisi and the Castello Alfonsino that dates back to the Aragone times (XV century).
Brindisi Cathedral
Because of its strategic position and being the most southeastern part of Italy, the city has been always considered the bridge toward the orient and especially in times of crusades. Starting from the 11th century under the Normans and in the following centuries (under the Swabians) Brindisi was the main port that many crusaders and pilgrims had to reach in oder to start their trip towards the holy land.
In the old city of Brindisi and surrounding area of the Cathedral there are some evidence of the old presence of the crusaders and templar knights (Portico dei Templari). The cathedral that has been restored in the 18th century was the place where the emperor Frederik the II from Swabia married Yolande from Brien, heiress of the Jerusalem.
Palazzo Nervegna and roman archaeological site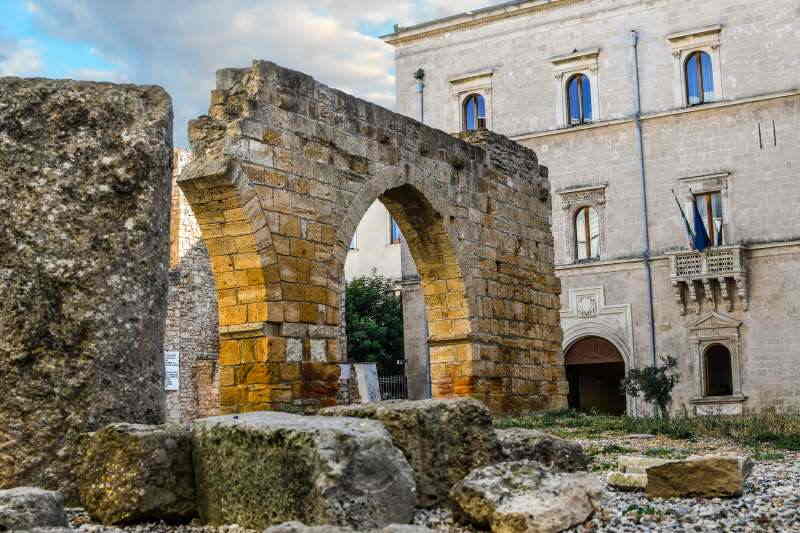 The nowadays main seat of the city hall, Palazzo Nervegna has one of the most beautiful Renaissance facades we can see in Puglia. It dates back to the 16th century and hosts in its fundament roman rests and the original capital of the roman column whose copy stands above the column along the sea promenade. Just a few meters away from Palazzo Nervegna you will also see Teatro Verdi. Underneath the theater you can explore a roman archaeological area and recognize the old structure of a roman road and buildings.