Described as the 'most fascinating castle built by Holy Roman Emperor Frederick II', Castel del Monte is a stunning 13th century castle in the wonderful Puglian city of Andria. On your private day tour of this UNESCO castle, you will discover its interesting history and even more fascinating architecture.
Translated as 'the Castle of the Mount', Castel del Monte sits on a small hilltop, proudly overlooking the commune of Andria, an area known for its rich agricultural heritage, and is one of the best preserved castles in Southern Italy.


Visit Castel del Monte
History of the Castle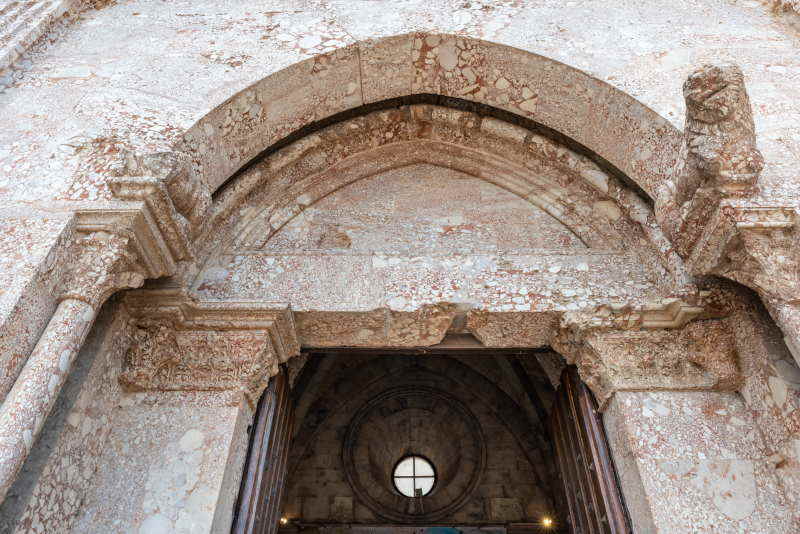 Castel del Monte dates back to the 1240s, when Frederick II inherited the lands from his mother and decided to build a castle here. Frederick II was a man ahead of his time and of all the castles he had built in Puglia, Castel del Monte is special in its design and structure.
Its original purpose was thought to have been a hunting lodge; it has no moat or drawbridge, leading experts to believe it had no military function. However, a recent discovery of a possible (now non-existent) curtain wall suggests otherwise.
Whatever the reason Frederick II had Castel del Monte built, it was only used for a few years before being abandoned. It then went on to become a state prison under the reign of Charles I of Anjou, before being used as a place of refuge for herdsmen and refugees, and then a secret navigational aid base during World War II.
Architecture of Castel del Monte
Known for its unusual architectural style and a masterpiece of medieval architecture, Castel del Monte is unique in that it was built in a geometric octagonal shape and was specially designed to have important symbolic meaning. The castle effortlessly combines elements from Northern European, Greek, and Middle Eastern cultures, and consists of an octagonal base with eight octagonal towers, each with eight trapezoidal rooms inside.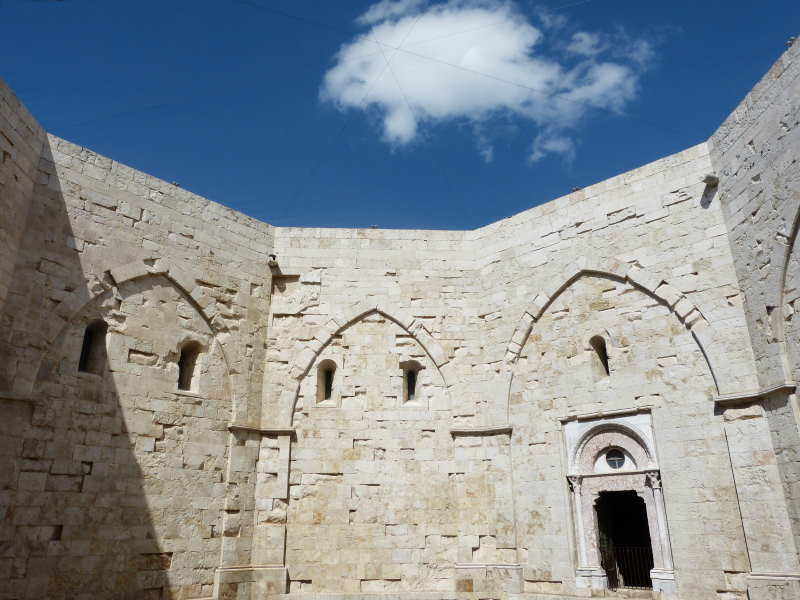 There is also an eight-sided courtyard at the centre of the castle; allegedly there was once a basin – octagonal in shape, of course – here, which was said to represent the Holy Grail. It is believed that Frederick II had the castle built in this particular shape and with these particular features as he was inspired by either the Palace Chapel of Aachen Cathedral, which is also of octagonal design, or the Dome of the Rock in Jerusalem, which Frederick II had visited during the Sixth Crusade.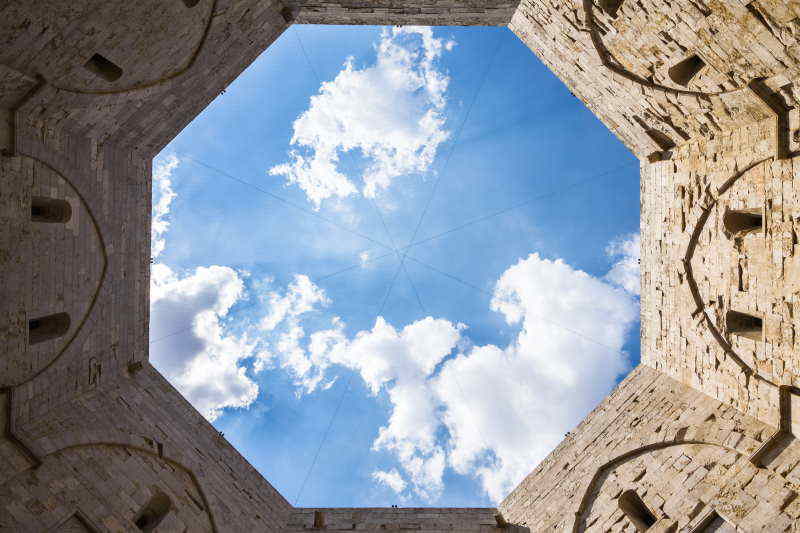 Although Castel del Monte was looted during the 18th century, having its decorative marble and ornamentations removed, the castle has since been restored and it's possible to see colourful doorways and window frames, as well as fragments of busts, including one which is believed to be of Frederick II himself. On your Castel del Monte tour, you will be able to explore these wonderful features, as well as admire the fascinating architectural structure.
Walking Castel del Monte's Surroundings
Like in most parts of Puglia, Castel del Monte's rural surroundings are wonderful for walking. Around the castle we'll wander through green pastures, where you'll be able to gaze out over the olive groves and farms which make up the wonderful Puglian landscape. You might even get to spot sheep grazing in the farmland as we take our stroll.
Interesting Facts about Castel del Monte
If you think you recognise Castel del Monte, it's quite possible you're right; since 2001, the castle has featured on Italy's one Euro cent coin. The castle was added to the list of UNESCO World Heritage Sites in 1996. It was added for its mathematical design and mixture of architectural styles. In 1249, the castle was the location of Frederick II's youngest daughter, Violante. Despite it being well-known that Frederick II ordered the construction of Castel del Monte, the identity of the architect and builder remains a mystery.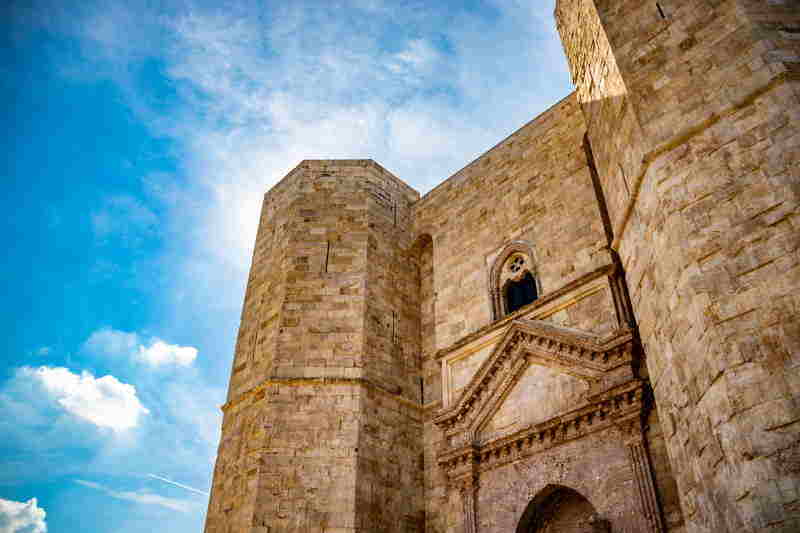 Castel del Monte was built using three different kinds of material: white marble, limestone, and coral breccia, a sedimentary rock. In the 1950s, the soil in the surrounding area was found to contain a red compound created by bacteria. This compound has since been used to manufacture drugs for the treatment of cancer. Iconic Italian novelist Umberto Eco is said to have been inspired by Castel del Monte when writing his book The Name of the Rose; the novel features an old fortress known as the 'Aedificium'.