While doing this tour, we suggest you base yourselves in the very heart of Puglia, such as Ostuni or Monopoli. They are both beautiful, quaint towns, very centrally located and very authentic examples of the Puglian region. By staying in one of these towns, you'll be able to soak up the wonderful and unique atmosphere of the area as well as being able to save many driving hours when joining our tours around the area. As an alternative, if you wish to stay in different places in the region, we can arrange for you to switch hotel every two or three days.
This is an example itinerary for a private must-see tour of Puglia. We can design the tour based on your personal preferences, dates, days and requests. It is possible, for example, to combine this tour with food and cultural experiences from one of our other tours. On your arrival day, your private driver will pick you up from either Bari or Brindisi airport, at the harbour or from your previous hotel and drive you directly to your next hotel in Puglia.
If you have fewer days at your disposal or if you want to take an extended trip to enjoy longer day tours with more to see and extra leisure time, we can adapt your Puglia must-see tour so it suits you perfectly.
DAY 1: OSTUNI, THE WHITE TOWN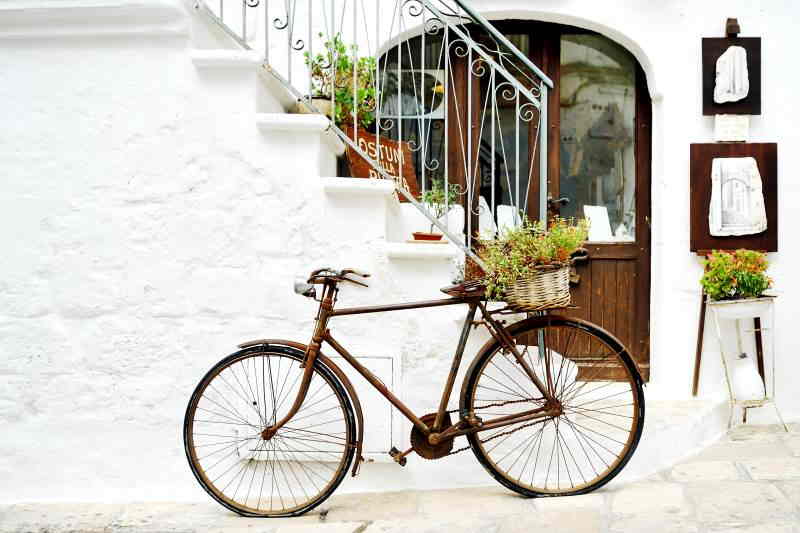 Day itinerary:
Pick up at your hotel
Meet your private driver and guide
Guided walking tour Ostuni
Ostuni, "the White Town"
On your very first day of the tour we will visit the gleaming white town of Ostuni, one of the quaintest medieval towns of Puglia. Surrounded by incredible ancient olive trees, looking out towards the crystal clear waters of the Adriatic Sea and completely whitewashed with limestone, Ostuni is the perfect introduction to Puglia destinations.
With your personal tour guide, you'll visit the old medieval historic centre and the late Gothic 15th century cathedral, with its magnificent rose window surrounded by 24 intricately carved columns representing the hours of the day, which sits atop Ostuni's highest point. The old town itself is a myriad maze of alleyways, arches and stairwells, creating a labyrinth initially meant to confuse invading forces but now providing visitors with the experience of getting lost among its narrow streets.
Ostuni is a vibrant town with several superb restaurants, cafés, gelateria and boutiques where you can enjoy your leisure time after our tour of the old town.
DAY 2: ALBEROBELLO UNESCO TRULLI AND POLIGNANO A MARE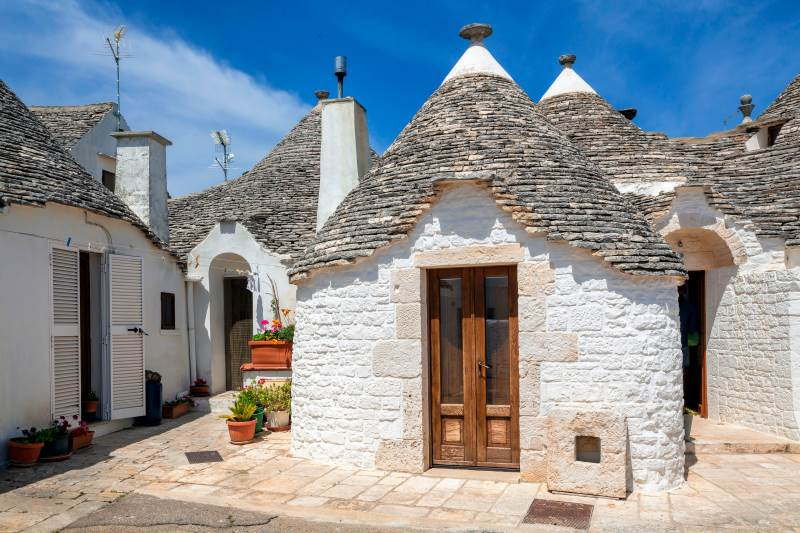 Day itinerary:
Pick up at your accommodation
Guided walking tour of Alberobello trulli
Walking tour of Polignano a Mare
Drive back to your accommodation
Alberobello, the trulli town and Polignano, pearl of the Adriatic
The second day of your tour will take you to one of the most iconic landmarks of Puglia. The fairytale trulli town of Alberobello will enchant you with its famous conical roofed houses and a unique atmosphere. Your driver will take you through the best countryside of the region so you can enjoy breathtaking views of idyllic rolling scenery dotted with trulli. Your private tour guide will lead you off the beaten path to discover the secret corners of the town.
After some leisure time and lunch in Alberobello, you'll enjoy a walking tour of Polignano a Mare, one of the most picturesque towns along the Adriatic coast of Puglia. Situated on cliffs overlooking the Adriatic Sea, you'll love getting lost in the winding little streets of the old town and appreciate the fantastic sea views which make Polignano a Mare one of the best places to visit in Puglia.
DAY 3: MATERA, UNESCO WORLD HERITAGE SITE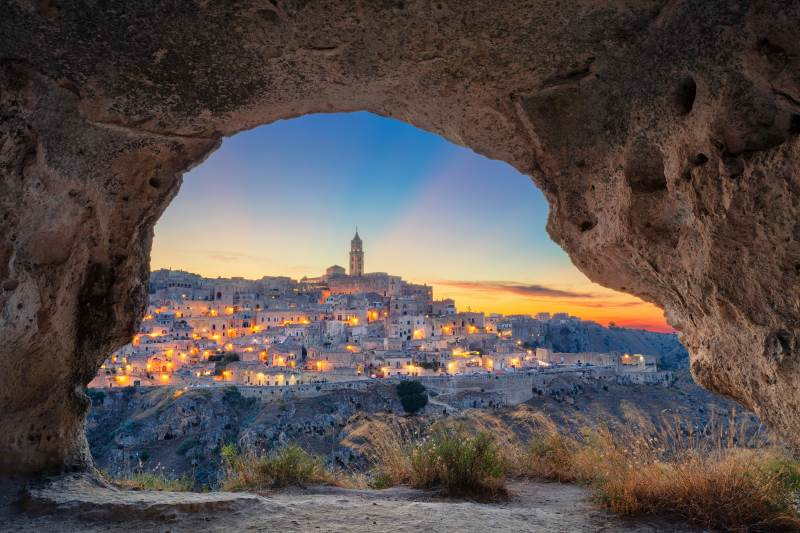 Day itinerary:
Pick up at your accommodation
Drive to Matera
Guided walking tour and leisure time
Drive back to your accommodation
Matera,"la cittá dei Sassi"
Definitely one of the must-see places in southern Italy, there are many ways to describe the stunning city of Matera: European Capital of Culture 2019; UNESCO World Heritage Site; filming location for many worldwide-known movies, such as The Passion of the Christ and Wonder Woman. As one of the oldest cities in the world, Matera has a fascinating history and an incredible cultural and artistic heritage. Located just outside the old city are the sassi, cave houses dug into the limestone rock which date back to at least 7000 BC. They create one of the most unique landscapes in the world and on this day of your tour you'll enjoy a private guided tour of these amazing structures.
DAY 4: LECCE BAROQUE TOWN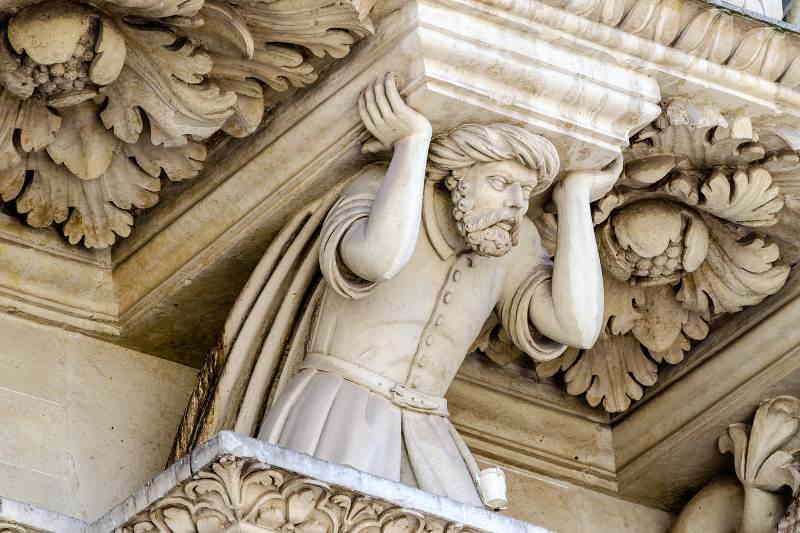 Lecce, the Baroque Town of Lecce
On your final day of the tour your private driver will take you to the beautiful baroque town of Lecce in the south of Puglia. Known as the 'Florence of the south', Lecce is the capital of Baroque-style architecture in the Puglia region. On your guided walking tour with your private tour guide, you'll be able to enjoy the best corners of Lecce, from its 17th- and 18th-century churches and palazzi with their beautiful facades to the ancient Roman amphitheatre which stands in the middle of the city.
Once you've finished your walking tour, you'll have the chance to enjoy some leisure time to really soak up the vibrant atmosphere of this delightful town. Lecce has a number of unique delicacies and traditions that are still alive to this day, and there's no better way to discover them than to enjoy the stylish cafés and delicatessens of the city as well as the many popular restaurants.